04.25.19
Dancing NIA to Celebrate Nance's Birthday
Studio NIA was alive this morning with friends and the full range of Lopez family members celebrating Nance on her birthday. Yarrow, the youngest Lopez at nearly 11 months, does his own almost-crawl dance with Sarah, the NIA teacher.
04.24.19
Suzanne Plays the Blues at Tiny's in Santa Fe
Tonight bass guitarist Suzanne played the blues at Tiny's with other musicians in the Santa Fe Workshop. The music moved Tiny's customers to move on the dance floor!
03.26.19
Bringing in the Light at Santa Fe Photographic Workshops
Santa Fe Photographic Workshops never fail to bring new perspectives and new techniques to my photographic work. All week I'm immersed in a workshop on portrait lighting techniques using speed lights. These photos of a couple of the models illustrate techniques using my newest lighting equipment.
02.09.19
Cross-Country Skiing in Colorado's Rocky Mountain National Park
It's getting to be a habit, meeting friends from Washington, DC for winter skiing in beautiful places. This year we've gathered at Snow Mountain Ranch near Winter Park, Colorado. Today our group geared up for cross-country skiing on a trail in Rocky Mountain National Park. The tracks into snowy terrain are an inviting reminder of the quiet beauty of gliding into winter.
1.05.19


A Cactus Wren at Desert Botanical Garden in Phoenix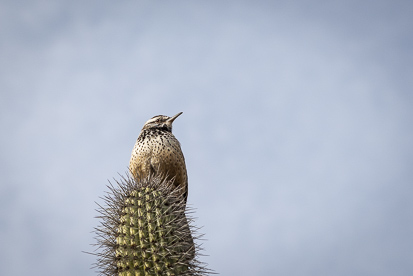 A cactus wren sits atop…a cactus, of course. This morning we visited the Desert Botanical Garden in Phoenix with Ellen Dement, who now lives in Mesa not far from the "Arizona Dements": Aimée, David, Cayden, Hannah and Kendall. This botanical garden is stunning. We plan to go back again and again. (Can't help but add that Phoenix's Musical Instrument Museum is another wonder. Don't miss either place if you get to Phoenix).
12.27.18
Darcy, Andy and Delia Come to Santa Fe for Christmas
Our friends Darcy, Andy and Delia flew into snowy New Mexico from sunny Burbank, California—their nearly-new home—on the evening of Christmas day. Yesterday we explored Meow Wolf's House of Eternal Return. Today we tromped around the Plaza in boots with poles—and with Darcy wearing John's cowboy hat and boots. She looks like a natural! This happy photo in front of the New Mexico Museum of Art doesn't foreshadow what the Florida-bound travelers will face in just a few hours. A huge snow storm has socked in Albuquerque and Santa Fe airports, probably for days, and the three Sawatzkis have embarked on a 30-hour drive in a rental car for Safety Harbor, Florida and a holiday visit with Darcy's family.
11.12.18
Roadtrip in Southern Utah
Pat and Dorcas, our good friends from DC, our six-and-a-half month-old border collie puppy, Bonnie, Polly and I have embarked on an 11-day roadtrip in Southern Utah with Chaco Belle, our Airstream, as our rolling home. Today Dell Keys, a physician by profession in Moab and also a longtime Park Service volunteer guide in Arches National Park, took us on a great tour of Arches. Delicate Arch is an iconic landmark in the park. The looks on Pat's and Dorcas's faces mirror our love of Southern Utah, which we feel is like one big national park filling the southern third of the state. In coming days we'll explore Capitol Reef National Park, the town of Boulder (including Hell's Backbone Grill) and the Trump-threatened Grand Staircase-Escalante National Monument, Kodachrome State Park and Bryce Canyon National Park.

10.21.18
Formula One Grand Prix in Austin
Today I'm perched on Turn 15 of the Formula One racetrack in Austin for the Grand Prix. The technology of the cars is breathtaking—as is my race to catch them in the eye of my camera! Fred Vang and Chris Judge, your enthusiasm for racing has caught up with me.
Austin is all the more wonderful for our visit with friends Hester and Jim Magnuson, who have taken us to their favorite restaurants, Central Market and the LBJ Library. Everywhere we've gone Austin-ians heap kudos on Jim, who will receive the Texas Writer Award at the Texas Book Festival next week-end. Kudos from us, too!

10.06.18
Golden Aspen on Santa Fe Mountain
Polly and I hiked our favorite "golden aspen trail" on Santa Fe Mountain for the third time this fall. When you're in the midst of an aspen forest at its peak in autumn, it seems like the whole world has a golden glow. Our five-month-old border collie, Bonnie, thinks the millions of golden leaves on the ground are all for her!

09.23.18
Santa Fe Tech Rescue Team Drills at Nambe Falls
The Santa Fe County Technical Rescue Team practices taking a patient with a compound fracture out on a litter over slippery rocks at Nambé Falls on the Pueblo of Nambé, just north of Santa Fe. My teammates and I practice one Sunday every month for rescues that require technical expertise—airplane crashes (we had one in January), cliff falls, rollovers into arroyos. Accidents happen all too often.

08.26.18
Hiking in Santa Barbara Canyon Near Penasco, New Mexico
After a morning visit with Stanley Crawford and Thomas Conboy at El Bosque, Stanley's garlic farm in Dixon, NM, and brunch at Sugar Nymphs in Penasco, our well-fortified band enjoys a walk through the aspen forest and along the Santa Barbara River (a real, free-flowing NM river). August has been rich in all kinds of outings with friends visiting Santa Fe, including on the Santa Barbara hike: Michaela Buhler (DC), Roy Winkel (Shepherdstown, WVA), and Hester and Jim Magnuson (Austin).

07.12.18
International Folk Art Market Community Celebration
For us the most exciting moments of Santa Fe's International Folk Art Market come during the procession of artists from all over the world at the "community celebration" on the Plaza. Carrying country signs, wearing traditional dress, eyes dancing—feet, too!, often singing as they parade across the bandstand, the artists don't hold back on their excitement about the upcoming market and being in the U.S. In today's procession a silver jewelry artist from Mali brings a roar from the crowd gathered on the Plaza. Polly and I volunteer every year for the market, this time in the "artists hospitality" area—up close and personal.

06.19.18
Our Bonnie Lass Comes Home
Our lovely border collie puppy joined our family today. Just eight weeks old, straight from a ranch in the Albuquerque East Mountains, Bonnie has a huge personality and promises to heal our still-sad hearts from the too-early loss of our beautiful border collie, Zen. Our "negotiations" in the parking lot of Sprouts with Matthew, the teenager who raised her litter, took an unexpected turn and we came home with Bonnie and her brother! For now we'll fittingly call the puppies Bonnie and Clyde (feeling in our hearts that "Clyde" will find a loving home in Galisteo with our friends Ken and Terra).

05.28.18
Punting at Cambridge University
A roadtrip to Cambridge topped today's agenda. Punting with Chris and Fiona on the River Cam was a fine way to see the ancient university, which dates to 1209. Our visit with the Judge family—godson Sam, Fiona, Chris and Nathan—at their lovely home in Wilby (Northamptonshire) has also included an amazing variety of British pubs!
05.19.18
Seashore on the Ring of Kerry, Ireland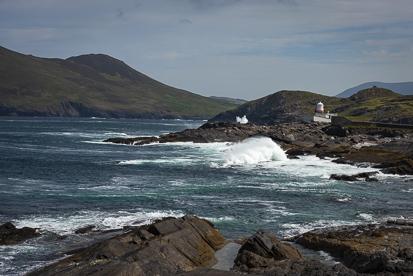 The southwest coast of Ireland is stunningly beautifu. I took this photo on today's trip around the Ring of Kerry. Truth is, we absolutely love the Greenmount House, where we're staying in Dingle (one peninsula further north), and could happily just explore the Dingle Peninsula's coast and trails, and its pubs with traditional Irish music.
05.17.18
Falling in Love with Ireland
After a couple of days in the very happening city of Dublin we drove today to the town of Dingle. En route we had lunch in Kilkenny, then explored the Rock of Cashel (above), an ancient fortress rising from the plains in County Tipperary. There we encountered the first of unending photogenic Irish sheep! (we'll watch border collies herd sheep in a couple of days). The Irish crow sitting atop the fence post is evocative of its cousins, the ravens, back home in New Mexico.

05.13.18
Prague through the Eyes of Holly and Family
Prague is the first stop on our 2018 European swing. We love being with goddaughter Holly, Kevin, Sage and Ansel while in their three-year sojourn in Prague. The family introduced us to the city through a "locals' day," featuring their favorite beer garden, and tomorrow promises "tourists' day," exploring Prague's old town and getting up to the castle. Prague's iconic Charles Bridge (above), witness to history, took me back to a previous visit while on assignment from the State Department. We look forward to a guided "food tour," but it would be hard to beat our delicious brunch at the Café Savoy (above right), a restaurant that has lived through over a hundred years of Czech history. Sage has promised us a visit to her school, which we anticipate being the best of the "locals' tour."

04.22.18
The Roundhouse, New Mexico's Capitol in Santa Fe
I was out photographing Santa Fe landmarks today, including "The Roundhouse," New Mexico's state capitol building--appropriately located on the Santa Fe Trail in Santa Fe. The volunteer New Mexico Legislature is one of the few in the country to meet for only one month in even years, and two months in odd years. Whenever the legislators are in session I serve as EMT (emergency medical technician) stand-by.


04.08.18
Plaza Blanca near Abiquiu, NM – O'Keefe Country
Today we hiked at Plaza Blanca, located in the Rio Chama River Valley between the village of Abiquiu and Ghost Ranch. Georgia O'Keefe's painting entitled "The White Place" is set here in the heart of O'Keefe Country. It's hard not to think of O'Keefe when you're here ("Pedernal" is on the horizon), but if you've seen "Cowboys & Aliens," it will feel familiar for another reason!

03.24.18
Mikey Five-Fingers Plays Rhythm Guitar
Our friend Michael aka Mikey Five Fingers plays rhythm guitar at Skylight Santa Fe as our other friend, guitarist-singer Suzanne, and uber-musician Peter Williams, founder of funk band The Stickey, join in. Photographing this event was pure fun!

02.12.18
Bison: Up Close and Personal
Think I must have made eye contact with this bison. First thought on seeing that "tail up" was that he was relieving himself, but as the bison charged on, I could see the fire in his eyes. Photographing wildlife in Yellowstone feels almost like I'm back in South Africa's Kruger National Park.

02.10.18
Hot Water in a Cold Landscape
I've hiked around Yellowstone's geothermal features in every season, but watching the steam rise off of geothermal pools in sub-freezing temperatures and seeing the geysers erupt against the winter horizon is the most dramatic by far. The natural light of Yellowstone in winter is as inspiring as the light in my home state of New Mexico, and the wintry clouds add to the dramatic effect.
02-09.18
Yellowstone's Bison in Winter: First Sighting
On our way into Yellowstone National Park today our first sighting of bison foraging their way through winter took my breath. Our Bombadier-made snow coach (the means for getting into the heart of Yellowstone in winter) rounded a curve along the Madison River, and there they were--a herd of the magnificent beasts. With camera and three lenses in my backpack, I'm homebasing at Old Faithful Snow Lodge for a week of cross country skiing with Polly and friends from DC:(left to right) Sam Stokes, Pat Munoz, Chris Brown, Mary Rollefson, Dorcas Adkins, Polly and me.

01.31.18
Blood Moon Over Santa Fe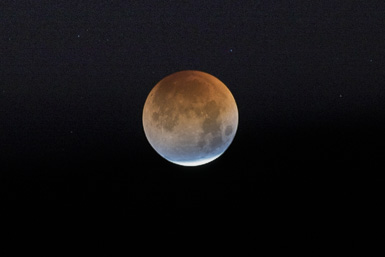 Santa Fe night skies are always full of wonder. Tonight, it's the blood moon. It helps to live in some of the purest air in the country.

01.14.18
Snow Geese and Sandhill Cranes Lift Off by the Thousands as Dawn Breaks Over the Bosque del Apache
This morning at O'Dark 30 friends Beverly and Warren Jones joined us on a "flight deck" at Bosque del Apache National Wildlife Refuge further south in New Mexico, bundled in winter clothes and sipping hot coffee. As dawn began to break a few snow geese began to signal that lift off was near, and within minutes some 40,000 snow geese were in the air. A little later, as the sun broke the horizon, the sand hill cranes used the warming air to lift their heavier bodies and began to take off in flight groups.
Snow Geese in the Bosque Honk About Climate Change
We warmed up over breakfast, then continued to explore the refuge for hours. I'm reminded once again that the beauty of a camera lens is getting closer subjects like the birds. Not only do thousands of snow geese and sandhill cranes winter in the Bosque del Apache; they are joined by a variety of hawks (we were particularly entertained by a kestrel today), eagles and smaller birds. And the refuge is attractive to plenty of mammals, too.